Dear Khospace Family!
I'm happy to announce the first (of many) monthly CEO updates with the goal of highlighting updates, interesting trends, and our vision for the growth of Khospace.
Speaking on behalf of the team, we would first like to acknowledge and thank each and every one of you – our members – for supporting Khospace throughout the pandemic.
I would also personally like to acknowledge my partners Jacques & Samantha (although calling them partners is weird as they are like brother & sister to me), and board members for your continued hard work and support.
It's absolutely crazy to think that this month marks one year since lockdowns began!
If your journey was anything like ours, 2020 was filled with difficulty, sadness, confusion, frustration, and maybe most importantly lots of time for introspection.
Covid presented unprecedented challenges for business owners throughout the country, and ours was no exception. It was surreal to have our hands tied due to lockdowns and travel restrictions, all while witnessing an avalanche of catalysts that will drive future growth in the therapy & wellness space.
Personally, upon my introspection, Covid taught me to think bigger.
Private practice is a coiled spring ready to explode, and I strongly believe we will look back at this year as one of the biggest opportunities ever seen in our industry.
To quote Mark Cuban,
"Wherever there is change, and wherever there is uncertainty, there is opportunity."
For this month's update, I want to focus on good news, trends, and opportunities presenting themselves.
Covid New Case #'s Are Declining
Covid numbers are seeing a huge decrease caused by a number of factors including the rollout of vaccines and
herd immunity
. In addition to decreased cases, we are also prepared to better treat Covid.
Suffice to say, things are headed in the right direction and it is my personal belief that the worst is behind us (although please continue to keep your masks on in common areas!). I also think that many of us have become so used to the "new normal" that a return to normalcy will catch many off-guard. Don't get caught with your pants down!
Now is an ideal time to dot your I's and cross your T's. Refine your brand, and plan ahead for your space and clients.
Searches for "Therapist Near Me" at All Time Highs…
The team and I are constantly evaluating, researching, and re-evaluating opportunities in the therapy & wellness space using as much data, (and as little emotion) as we can.
As Covid-19 and lockdowns persisted, we started noticing interesting trends when looking at google search volume. This process (also known as keyword research) lets us view how many times certain terms are searched for throughout the country. During our research, we noticed that more people than ever are seeking treatment in America than ever before in history.
That's right – searches for "Therapist near me" hit all time highs in February. The issues caused by a year of isolation will not be quantified for years to come but one thing is certain, there has never been a better time to invest in building a private practice.
When you take this trend, factored with the ever increasing time children are spending behind tablets and screens, we see a confluence of factors creating the perfect storm for therapy & wellness service demand.
I don't think a better opportunity to enter the world of private practice will ever present itself.
For now, take a look at the search volume for the following terms:
Searches for "therapist near me"...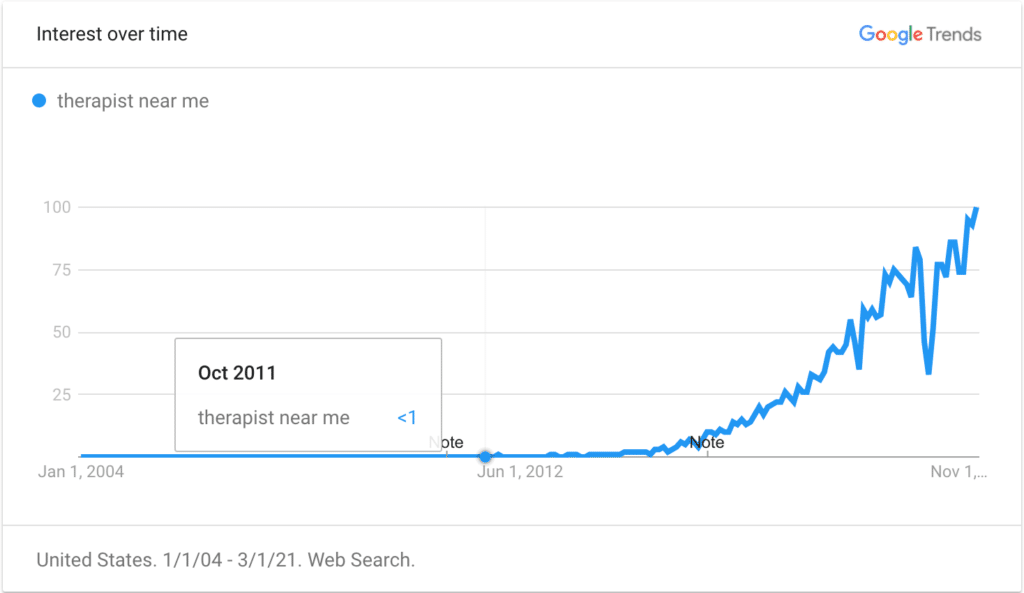 Searches for "anxiety"...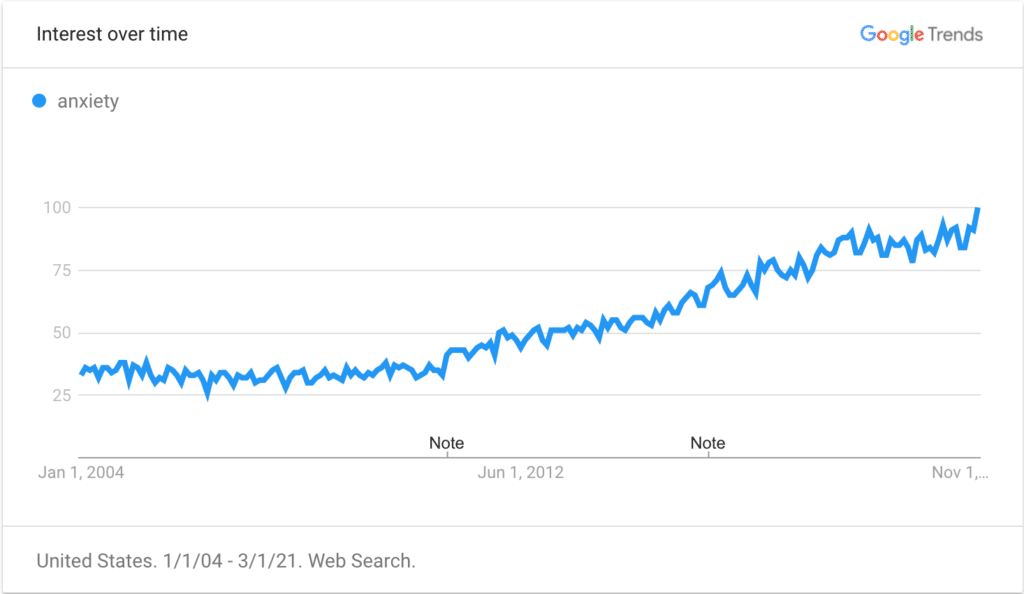 Searches for "virtual therapy"...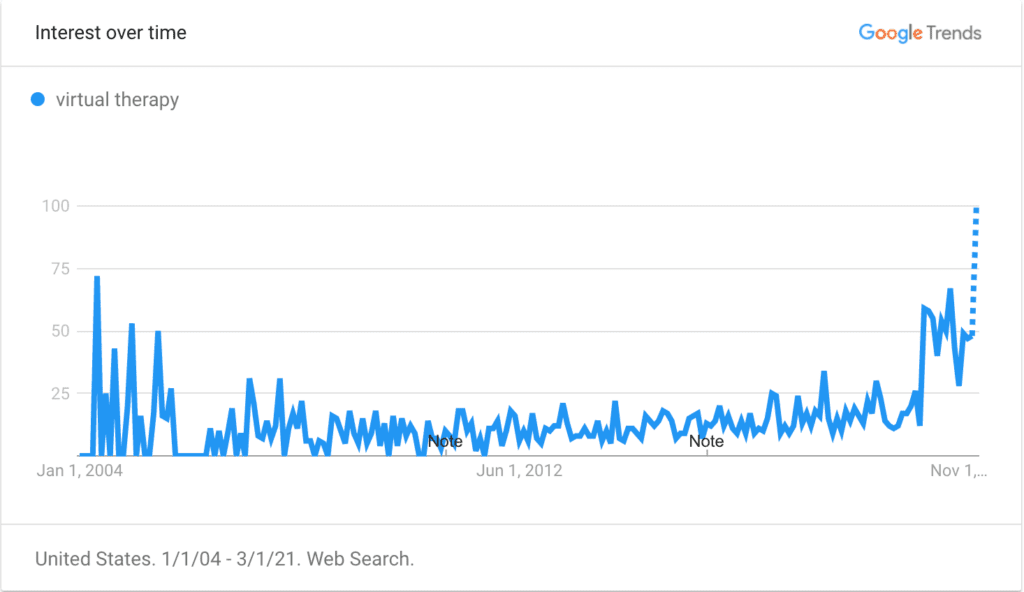 Getting excited to help the world? I think you should be! 
Office 5 Now Open in Aventura…
When our clients speak, we listen! The team has received numerous requests over the last few months to convert our rarely used waiting area into an office for day-to-day work. 
Guess what? You were right! It looks great! 
OfficeSpace 5 will be open for bookings starting March 1 in our Aventura member portal.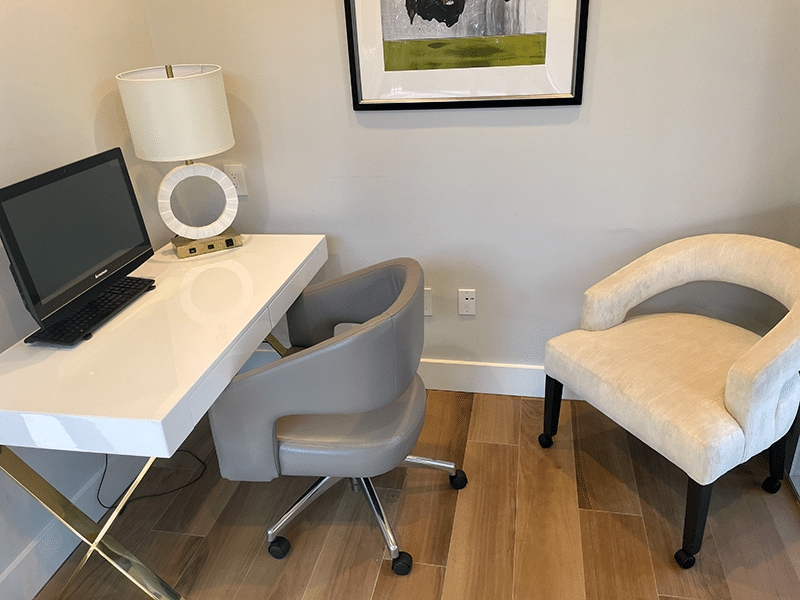 New Mail Room in Delray Beach…
The mailroom has moved to its own dedicated space at our Delray Beach, FL location. It is located across from Room 9 and will also serve as storage for extra office chairs and miscellaneous items.
New Paper Towel Dispensers…
We've replaced & added new paper towel dispensers at our Aventura & Delray locations. Shout out to our Khospace Aventura member Gary K for the suggestion! 
We always appreciate member feedback so make sure to call, text or email us if there's anything you would like to share.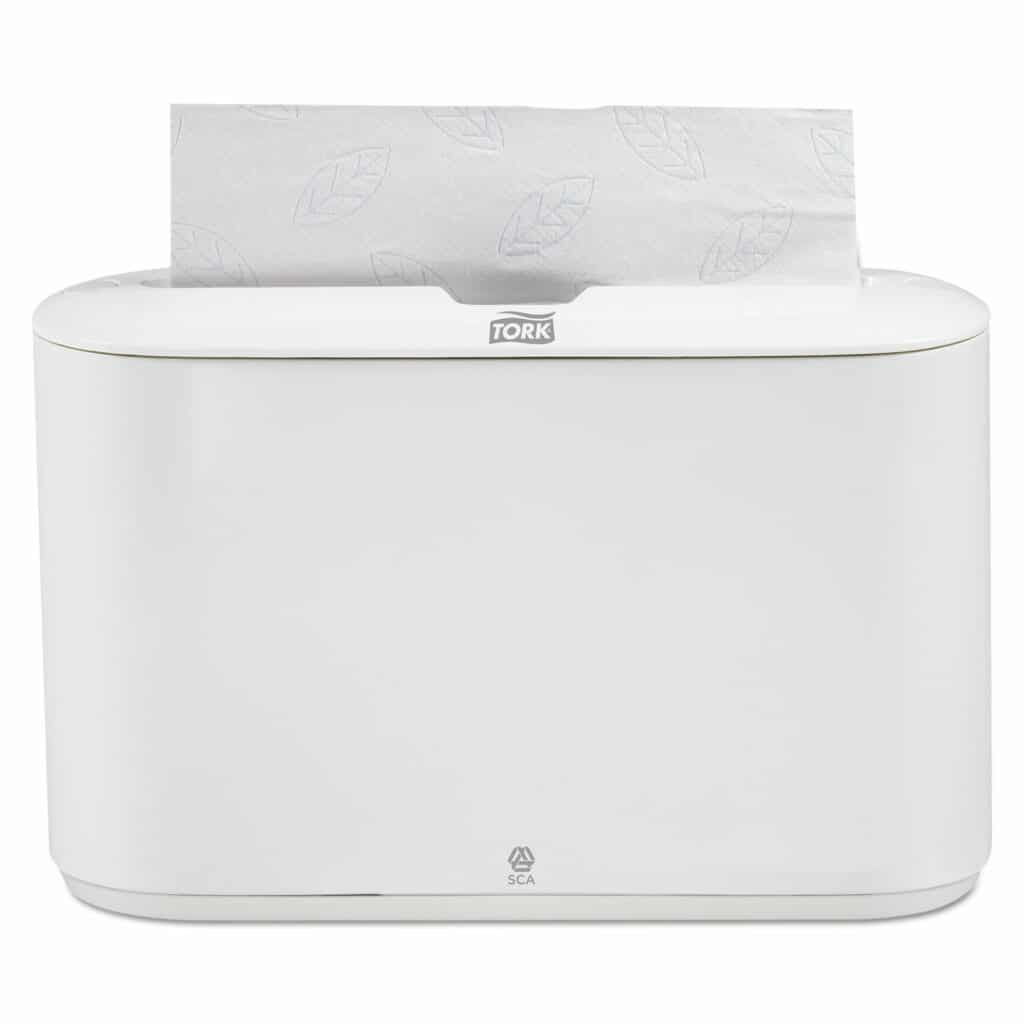 New Additions To Our Store…
We've added two new goodies to our store! First, our Khospace Branded S'well bottles are ideal for keeping your coffee hot, or water cold all day long! Our supply is limited so make sure to grab one soon!
Second, we've given Khospace Aventura members the option purchase an RFID sticker giving access to the primary resident gate. No waiting at the gate.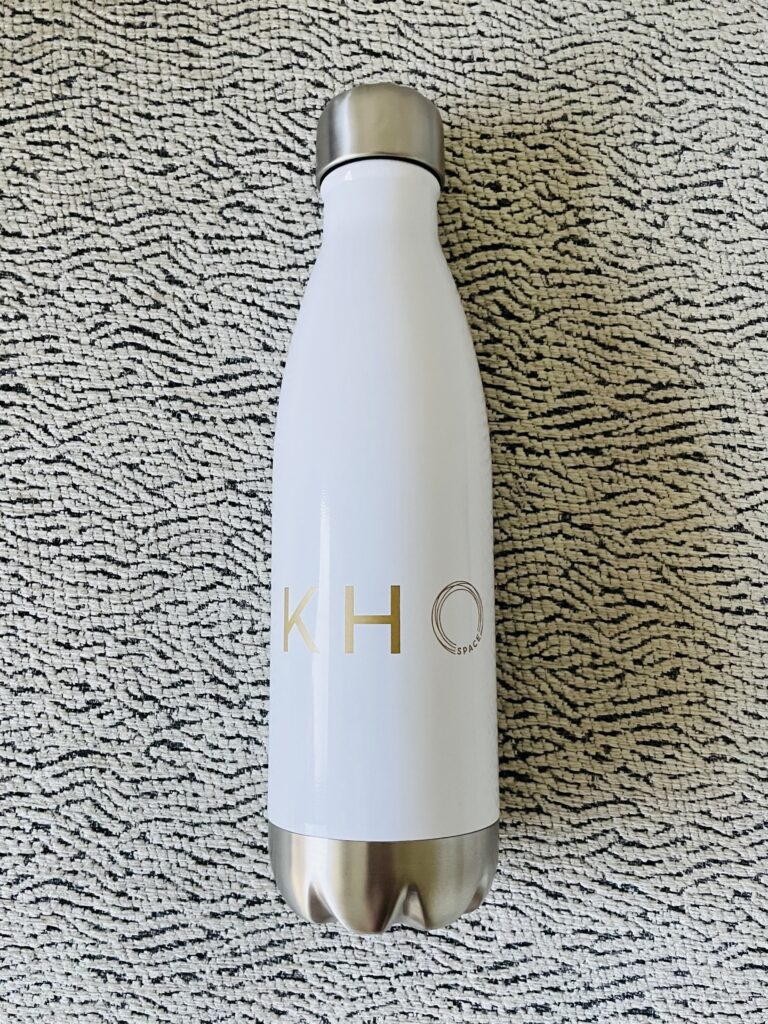 RFID GATE ACCESS (Aventura)
That's it for February! I'm excited to continue this monthly series of updates and look forward to the road ahead.
Before signing off, I want to reiterate what I wrote before:
Private practice is a coiled spring ready to explode and I strongly believe we will look back at this year as one of the biggest opportunities ever seen in our industry.
Thank you for the continued support!
We have some big announcements on the way, so stay tuned.
-Bo